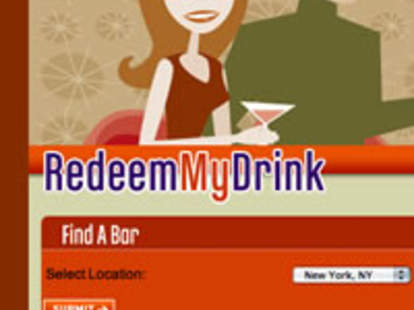 Be it a promotion, an engagement, or finally fitting his fist into his mouth, the easiest way to show you appreciate a friend's accomplishment is to buy him a drink. If you can't make it down to the bar, try BuyYourFriendADrink.com.
This just-launched service lets busy/lazy people purchase online drink credits, redeemable at any bar in BYFAD's ever-growing network. How it works: you visit BYFAD's site, give them your friend's cell# and email, and select a dollar amount between $5 and $250 (you'll be charged 99cents for the transaction, meaning you'll have to curtail your evening "sizzling hot chat" call by a minute). After that, your friend gets a text/email containing a 17-digit code, plus a note explaining that the numbers represent a gift from you, not the GPS coordinates of "the microfiche". All he has to do is flash the note to the bartender, who'll input it into the bar's credit card terminal. Your boy can then freely drink whatever you already spent on him -- engendering a warm feeling from the booze, and the knowledge that you value his friendship at $8.75.
BYFAD's pavement-pounding marketing has already netted them 46 participating bars, from the after-work Devin Tavern to the never-leave P.J. Clarke's (38 are up-and-running, the other 8 just waiting for their card readers to be updated). Assuming the bar has a kitchen, your friend can also redeem his chit for food -- though after having his fist stuck in his mouth for a day and a half, it might be hard for him to chew.