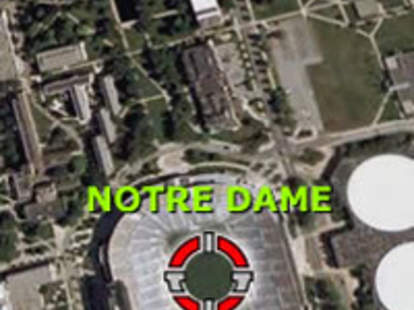 Everybody dreams of pulling a Rudy Ruettiger, but sadly, most people lack even Sean Astin's meager athletic ability. Realize your Irish ambition at the Notre Dame Fantasy Camp
For four days in South Bend, Indiana, you'll live the ND experience, with real coaches teaching you to play the game right, regardless of how doughy your midsection.
You'll also get
Historic Digs: Crash at the storied Morris Inn, which is booked solid during the season due to proximity to game-day mayhem. Be warned: the MI's considered a landmark, so jokingly painting the room in USC cardinal and gold is not recommended. Famous Irishmen: Legends of the Dame will stop by to motivate you with speeches, backslaps, and tales of getting spit on by Lou Holtz. Immediately afterwards, former QB Ron Powlus and current offensive coordinator Mike Haywood will ridicule your manhood as you stumble pathetically through a set of up/downs.
Flag Football at Knute Rockne Stadium: Live a true ND game day, with mass at the Grotto, a locker room pep talk, and the ritualistic smacking of the "Play Like a Champion Today" sign. Then run onto the field and culminate the week with the most intense flag football of your life. Afterwards, hit campus bars hopped up on adrenaline yet paralyzed from soreness
The 2007 camp's already selling out, so sign up now. It's expensive, but your money'll help keep ND's recruits driving Escalades for years to come. And anyway, did details like "cost", "feasibility", and "torn groin" prevent little Rudy from fulfilling his destiny?