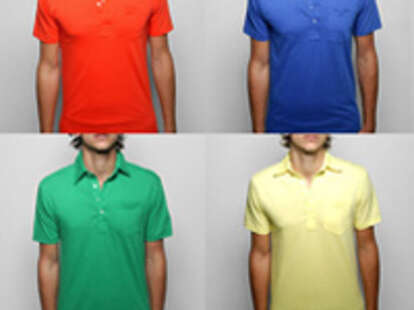 Polo-style shirts are wardrobe essentials, but many brands are dramatically overpriced -- and, worse, their stuffy designs can make you look like you actually play polo. For a less expensive (under $30 with discount), more relaxed look, try American Apparel's "2412" Short Sleeve Leisure Shirt.
With its 4-button style, the 2412 harkens back to the 70s -- a wondrous era when being classy didn't mean you couldn't have a little leisure (or "scumbag") in you too. It's made of ultra-soft 100% Fine Jersey cotton*, with a structured collar designed to hold up through repeated poppings, washings, and wearings-without-washing.
Besides being durable, the 2412's also versatile: you can wear it at night without looking like you never made it home from the country club, and you can wear it to work without everyone thinking you breakfasted on Country Club Malt Liquor. Variety's no issue, either: with 36 colors and patterns, it's easy to find shirts that'll work with your skin tone, hair, and entrancing Sea Foam eyes.Most importantly, the 2412's easy on the wallet -- and right now it's even easier, almost sluttish: go to American Apparel's site and plug "Thrillist" into the promotional code field, for 15% off. The offer's good for a week, but you should probably order now, or risk blowing your money on other forms of leisure and finding yourself unable to afford pants.
*As with all AA shirts, the 2412 tends to fit snugly -- so if you're a large but have deluded yourself into thinking you're a medium, order a large.