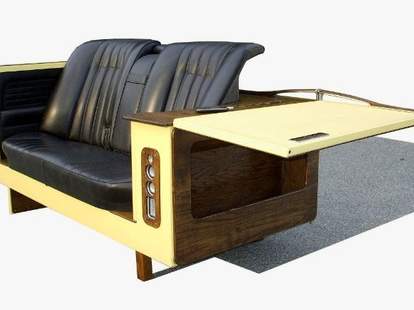 The only thing that sucks about sitting on the couch is having to get up to go to the fridge... Oh my god, what if somebody made a fridge couch! Well...Fridgecouch.
The Fridgecouch is everything you dreamed a fridge and a couch could be: an elegant mashing together of 1980s European car seats and the era's gleaming refrigerators, the bizarrely relaxing notion of Canadian national snowboard team member turned architectural designer (hopefully he's over the constantly-falling-down thing). For raw materials, the founder first scours the auto graveyard for BMWs with intact rear leather seats, then hits the junkyard for iceboxes hopefully not containing curious children; then he strips everything down, merges the units, and adds everything from wood trim and shelves to audio systems -- hopefully not "of a down", or you'll get MAKEUP! all over your new furnishings. The current lineup includes an avocado Gibson Frost Clear with 325e cherry red seats, mahogany shelves, and a fold-out side table/freezer door; a navy blue 1984 7-series leather bench married to an electric orange 1983 Admiral Dual Temp with pecan oak trim and adjustable metal side racks; and, with black leather, dark walnut oak shelving, a fold-down armrest, and an iPod-compatible blaster, a 1988 535i locked in harmony with a harvest gold 1980 GE No Frost, a condition Nixon imposed before agreeing to talk about Water Filter Gate.
Custom work can be negotiated, and the company's currently designing a far lighter model, or, what you'll hear casting directors asking for once you own this thing.