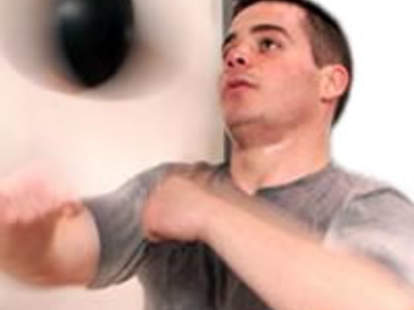 Taking boxing lessons from a health club is no more effective than learning cattle ranching at Bloomingdale's. For legitimate training that's both bad-ass and cost-effective, hit the Church Street Boxing Gym.
In 3-6 months, New York's largest boxing gym can turn the feeblest novice into a stone cold punching machine. Equipment-wise, they pack two regulation-sized rings and an army of heavy and speed bags that've been dented by everyone from the ageless Evander Holyfield to the tropical Felix Trinidad. More importantly, their staff's fought a combined 500+ amateur and professional bouts, guaranteeing you'll receive instruction from someone who knows how to deal pain/not puke after taking a gut-shot. When not training, you can build up your wind on CSBG's cardio machines -- or take advantage of their premium strength equipment, if you're looking to move up from the "super-girl" weight class.
All this comes at a price that's pugilicious: $140-per-month for full membership, plus unlimited small-group instruction. The rates seem even sweeter when you consider the alternative -- paying $80-per-hour for a muscled-up dolt to watch you skip rope while he scratches his spandexed balls.