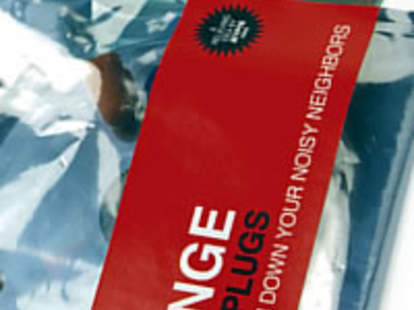 Noisy neighbors can ruin your quality of life, but knocking on their door to complain would require actually meeting them -- ruining your months-long streak of avoiding meeting their eyes. Instead, combat their inconsiderateness with window-rattling passive-aggression: Revenge CD. RCD is a 20-track compendium of racket ranging from the insane (Cat-in-Heat) to the improbable ("Spring Cleaning"). There's also human-created obnoxiousness, like the excessively festive "House Party", the unhinged "Towering Rage", and "Orgasm" -- which presents lust so unbridled, it'll make the unruly dwellers of 9C nostalgic for "Towering Rage". Other highlights include:
"Violin Practice"
"Unhappy Dog"
"Inhuman Screams"
"Drill"
"Pigeons"
and
"Newborn" (a doubly-effective silencer after you sell your neighbors' real baby to gypsies)
RCD's main drawback, of course, is that playing it will also drive you out of your gourd. Helpfully, the CD comes with earplugs -- so you won't notice the noise, even when your other, quieter neighbors continue the cycle by taking out Revenge on you.