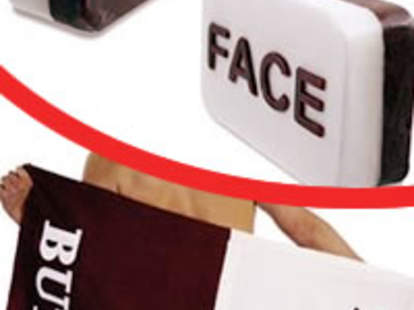 Showering ostensibly cleanses the body, but 14 out of 15 times it results in you inadvertently getting a face full of your own ass. Never get keister'd again thanks to these handy bathroom innovations.
First, suds up with Arse/Face soap, a lightly scented brown and white bar instructively etched with an "Arse" side and "Face" side. Once you're out of the shower, dry off with Head-to-Bottom's 100% cotton bath towel. Divided in halves labeled "Face" and "Butt", it also sports the brown and white color scheme, just in case during your pre-ButtFace days you contracted Feces Borne Bacterial Illiteracy (FBBI).
At under $20 combined, these products are a cheap way to ensure that the only time you'll get your butt in your face is when the mood strikes you.