NYC's famed for its impregnable velvet ropes, but in practice the feeble-minded bouncers who control them don't pose much of a deterrent -- as evidenced by the fact that you've gotten into a club before. Representing a nuclear escalation of pretentious exclusivity: The Box, sort of open as of this week

By now you've probably heard this place was coming: a New Orleans-bordello-looking burlesque theater/nightclub designed by Simon Hammerstein, grandson of (Rogers and) Hammerstein, whose music you either hate, or perhaps secretly adore (but fear loving it makes you gay). Unfortunately, you can't enter this two-story underworld of contortionists, singers, dancers, and frolicking "little people" for at least the next four months, as the owner's only granting access to his friends in the arts, family members, and his 30+ financial backers. Then again, no door's impassible, as the following math proves


15 business associates per investor
+
38 hangers-on per investor
+
1 person the investor trusts as a friend even though he'll eventually stab the investor in the back
x
30 investors
That's 2520 people you can be/seduce/steal the identity of --
not including your innumerable contacts in the arts community
.
Of course, the door's only half the battle: once inside the 250-person space, it's $600 for a table and $900 for box seats (and
$100,000
to rent The Box out for a private event). But if you've got the patience, cunning, and cash, try to get in and find out what could possibly be worth 300 Hog Pit PBRs.
Previous Venue
Next Venue
Venue Description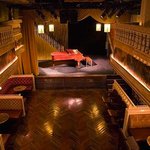 1. The Box
189 Chrystie, New York, NY 10002
By now you've probably heard of this place: a New Orleans bordello-looking burlesque theater/nightclub designed by Simon Hammerstein, grandson of (Rogers and) Hammerstein, whose music you either hate... or perhaps secretly adore.