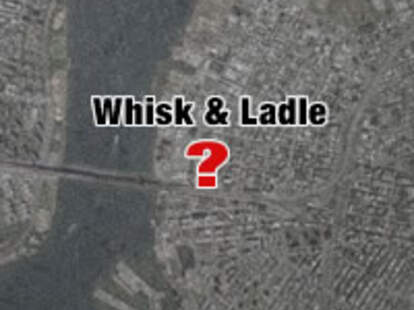 Whether it's a gray market sports car, or immigrant farm labor, everything's a little better when obtained illegally. To garnish your gourmet dining with transgression, make every effort to hit the Whisk & Ladle Supper Club.
Convening "most Saturdays", the W&L is a covert culinary gathering hosted by three chefs and a bartender in their massive Williamsburg loft. The evening kicks off with an informal cocktail hour, featuring eccentricities like green chili margaritas and fig martinis, plus contraband concoctions fueled by absinthe, Cuban rum, even coca leaves -- banned everywhere except Bolivia, Colombia, and the same "International Waters" that support gambling and toddler knife fights. The subsequent five-course prix fixe typically includes dishes inspired by Brooklyn's ethnic staples (e.g., Bed-Stuy jerk chicken), though some of the chow (yak steaks, smuggled-in turtle) comes straight out of The Freshman -- all that's stopping the house crooner from singing "There she is, your komodo dragon" is the fact that a komodo dragon ate him during his vocal exercises.
Because W&L's necessarily underground (and only serves once a week), snagging a seat at their scofflaw's table could take a few months -- but email them through their website, and they'll inform you about availability. Careful though: if they suspect you're a food narc, they'll cook up the ultimate illegal delicacy -- Braised Loin of You.