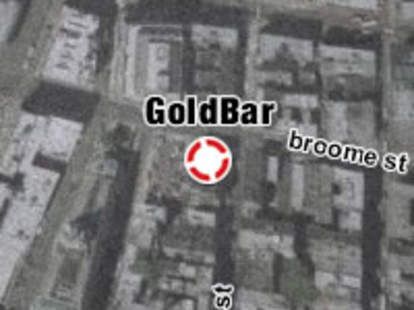 A new, over-the-top bar is like a finger in the butt: even if it's not your style, you're still curious what all the fuss is about. Later this week, the fuss will be about GoldBar
We don't know much, because the owners are cagey and neighborhood kids stole our lockpick set, but here's what we've got
The Basics: A Nolita lounge decked out entirely in gold -- a precious metal for which men have died, civilizations have crumbled, and Monex has aired profoundly optimistic television commercials
Gold Specifics: Gold ceilings. Gold curtains. Thousands of ominous, gilded skulls hanging from the wall, possibly fakes, but possibly lopped off the shoulders of Tracey Gold, Goldfinger, Elliot Go(u)ld, etc.
Cocktails: The classic variety, many in the $18 range -- which should keep out the $14-a-drink riff raff infesting other VIP lounges.
Food: small plates Italian-style, in keeping with the "Please instruct the bouncers not to let in any San Gennaro Fest drunks" location. Backers: Jamie Mulholland, Robert McKinley, David Tetens, and Jayma Cardoso, some of whom are also investors in Cain. The preceding information is totally irrelevant, unless one of them is your baby daddy.
Official Opening: Thursday, 6pm
Whether or not you end up hanging out here, it's going to be worth stopping in, if only to steal the decor. Monex' advice for your newfound riches: "There's never been a better time to invest in gold. Or to take a finger in the butt."