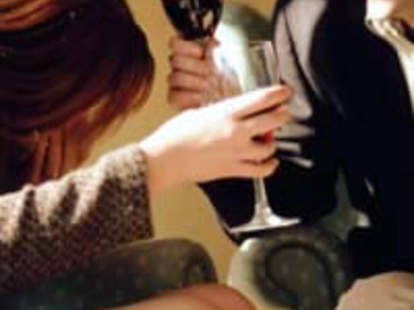 While drinking the right wine for your meal is one of life's boozy joys, learning all the tedious oenophilic minutiae can distract you from your true passion: not learning tedious minutiae. For fool-proof, no-nonsense options, try a wine from Rioja.
Exclusively from the Napa Valley of Spain, Rioja's made from the tempranillo -- a robust, dynamic grape with outstanding taste who all the girl grapes want to go shopping at Bed, Bath, and Beyond with. Because the wines begin with such a bold-yet-balanced foundation, and are all ready to drink immediately, the four resulting styles partner perfectly with whatever you're eating/spilling onto your pants:
Young Wine: Inexpensive, fresh wines suited to accompany veggie dishes -- so tasty, it'll distract you from the sad reality that someone has stolen your meat. ($6-up)
Crianza: The house wine in most native Spanish restaurants, Crianza compliments any seafood. Unfortunately, nothing can compliment your open-mouthed "see-food" joke. ($6-14)
Reserva: Extra aging makes this a great pick with pork chops, or Abe Vigoda. ($12-30)
Gran Reserva: Perfect for lamb and beef, the GR's so complex and rich you will seriously consider dating it. ($18)
Of course, wine tastes even better when it's free: click here and get entered to win a case of Rioja. Or, click here to win a blow-out wine party for 20 -- freeing you of the need to stock up, but leaving you with the tedious minutiae of remembering 19 friends' names.