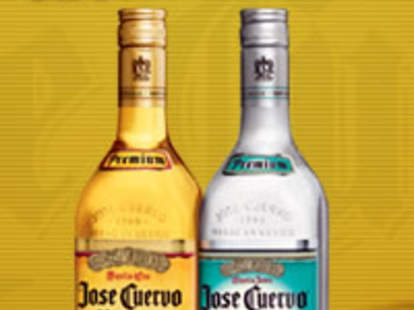 Cinco de Mayo means the beginning of warmer weather, shorter skirts, and days tailor-made for sinking into a euphoria of grilled meat and tequila. This Saturday, get your celebración started with Jose Cuervo.
Just as the Mexicans repelled the French with live ammunition, so, too, is Jose Cuervo beating back lingering winter malaise this Cinco de Mayo with shots of tequila, ushered in by the Shot Poured 'Round the World. This celebration of freedom will officially kick off Cuervo Season, a period of frozen 'ritas, tingly shots, and other refreshing tequila-riffic treats. To mark this glorious time, bars around the country encourage you to knock one back, in the name of peace, love, and tequila -- a Hands-Across-America-esque show of solidarity far less likely to expose you to the sweating palms of strangers.
Should you fear that your shooting skillz will be lost in a crowded bar, upload your applause-worthy performance to Jose Cuervo's online Shot Chain, or go online to check out the performances of fellow tequila shooters. Such virtual imbibing should help you extend the holiday season beyond Saturday's meat and Cuervo throw-downs right through Quattro de Marcho of '08.
JOSE CUERVO Tequila. 40% Alc/Vol. © 2007 Imported and bottled by Heublein, Norwalk, CT under license from the trademark owner.
Please drink responsibly