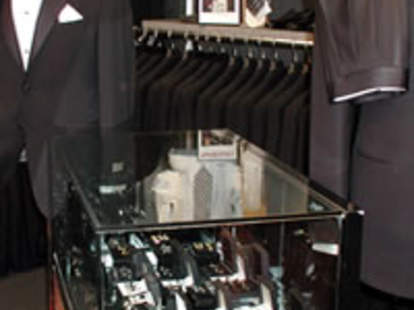 Wedding season's coming up, and with it three horrible realizations: your bridesmaid take-downs will be regrettable, your toasts will alienate friends, and you will look like a monkey-suited chump. Instead of throwing money at a rental/pulling your pee-stained college tux off the closet floor, try Rothman's.
Rothman's is the single-stop spot for all your annoying nuptial needs. Their Manhattan store has a subterranean vault dedicated to tuxes, vests, formal shirts, ties, and other accoutrements for witnessing The Biggest Mistake of Someone Else's Life. Brand-wise, they never screw around, instead stocking designers like Canali, Boss, Ted Baker, Zegna, Arnold Brant, Hickey-Freeman, John Varvatos, and Joseph Abboud -- gear so well made, it'll last 'til you decide to settle down, before changing your mind and becoming a human organ smuggler. Sweetening the deal: during your fitting, their expert staff'll ply you with Kentucky bourbon, essential for rehearsing the inappropriate, curse-laden speech that'll soon be the stuff of legend.
Even if you're wedding-free, stop in for the new spring/summer line of suits, sport coats, and casual wear from Seven Jeans, Penguin, Ben Sherman, Burberry, Lacoste, and more. You'll look so fetching, it'll be hard for you to avoid betrothal -- and eventual divorce.