CNBC Wants to Make You Rich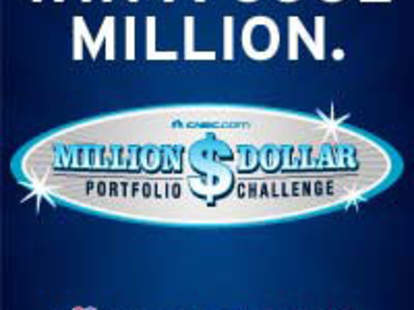 Demolishing your friends' egos is crucial to your own well-being -- but if fantasy football management is your sole wrecking ball, then come season's end you're left with nothing but fantasy unemployment. To keep the domination going, take up a more legitimate fake job, with a very real payoff: playing the market, with CNBC's Million Dollar Portfolio Challenge.
This 7-figure fantasy financier competition kicks off when you're handed $1,000,000 in CNBC bucks and the absolute freedom to make up to 50 trades a day. At the end of each week, the player with the largest percentage gain receives $10,000 in real dollars, spendable anywhere that accepts money. After ten weeks, the Finals begin: the top ten players, plus the 10 weekly winners receive a brand new, $1,000,000 portfolio, then plunge into two weeks of informed risk/reckless speculation. The last man standing gets $1,000,000, again in honest-to-goodness American currency. If this is you, it's perfectly understandable if you parade around in a monocle, and also perfectly understandable if someone else yanks your underwear over your ears.
So sign up for the Challenge, and experience the ecstasy of getting rich while other men are ruined. The only danger's that you'll let virtual success go to your head and, like MC Hammer, invest your $1,000,000 in racehorses -- thereby exposing the fantasy that you ever really knew what you were doing.