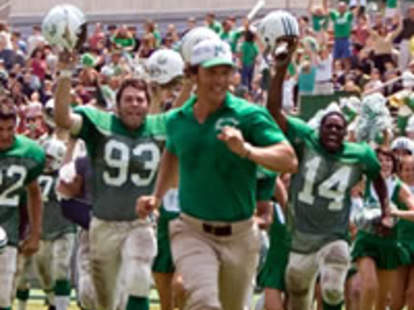 Though ordinarily shameful, the expression of intense emotions is actually the manliest reaction possible to a heroic, sports-themed drama. Prepare to let your feelings flow, when We Are Marshall hits theaters Dec 22.
We Are Marshall's the story of the 1971 Thundering Herd, who managed to field a football team after a tragic plane crash the previous year claimed the lives of nearly every varsity player. It's got everything you want in a sports movie: inspiring speeches, an improbable victory, and a ragtag squad of freshmen and walk-ons facing odds so insurmountable, it'll be a month before you can complain about anything without feeling like a selfish turd. Overarching all this, We Are Marshall presents the story of a whole town banding together around amateur athletics, instead of a gifted child, or a gifted pig. And as a final bonus, the lead actors have legit football cred -- Matthew Fox played receiver at Columbia, and Matthew McConaughey... really likes the Texas Longhorns.
To get you into the spirit early, enter Thrillist's We Are Marshall contest: be among the first after 12pm today to answer the question below, and you'll get a pair of tickets to a sneak preview at Warner Brothers' private screening room on Tue, Dec 19th (7pm). A word of advice: if you win, make sure you bring along someone who'll be impressed that you're actually capable of crying.