Ardbeg's Beastly Throwdown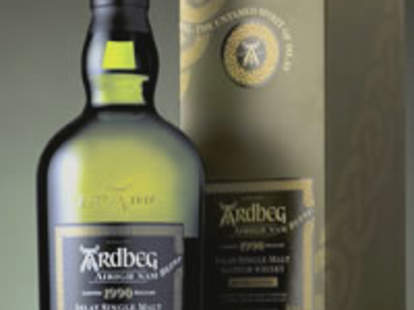 Parties thrown for no reason at all are what make life livable, but when the cause for merriment's a new scotch entering the world, you've got an exercise in awesomeness. This Wednesday, such a moment is upon you, as Ardbeg unleashes Airigh Nam Beist on America.
A peaty monster from the Scottish island of Islay, "The Beast" is composed entirely of 1990 stock, which has been aged in oak bourbon barrels to acheive a bone-warming, 46% ABV goodness. To properly unveil this creamy champion, Ardbeg has prepared an epic fest, worthy of fun-lovin' 15th century dragon slayers and wooly-moled tartan crones.
Here's what awaits you at Wednesday's bash:
LAIR: A huge, gothic temple on the Lower East Side whose altar will be hijacked for the evening in order to christen Ardbeg's smokey new child.
YARN SPINNING: A special effects extravaganza will accompany an Ardbeg elder who'll regale the thristy congregation of scotch worshippers with "The Legend" behind "The Beast".
RAWK: With The Beast sworn in, Scottish percussion wizards Clann an Drumma bring the mighty thunder. Think Spinal Tap morphed with Braveheart.
IMBIBE: You'll get some grub, sample the new nectar, along with "Ardbeg 10 Year Old" and "Ardbeg Uiegedail", a spirit as delicious as it is unpronounceable.
BE WARNED!: To get in on the gratis action, RSVP this instant. Space is extremely limited, so get a piece of the Ardbeg madness -- those left behind will have to dream up some desperate alternative to sitting home alone and sobbing.