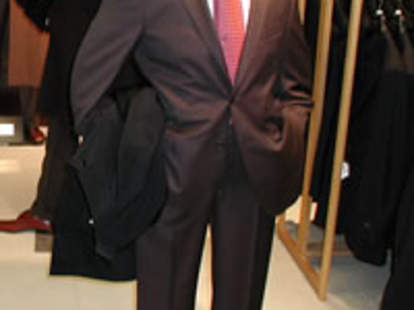 If all your cords are hole-riddled and your sportcoats are full of nesting mice, it's time to upgrade your fall wardrobe. Instead of hitting a million boutiques or fighting through a department store bottleneck of jeans-hoarding tourists, try Rothman's.
Located in Union Square, Rothman's is run by two brothers whose no-nonsense, businesslike approach to fashion has pleased no-nonsense, businesslike men for over 20 years. To that end, they've weeded out the purple vinyl overalls and zebra-striped mock turtlenecks, leaving only clothes that you actually want: suits, sportcoats, shirts, jeans, shoes, and tees from brands such as Boss, Zegna, Penguin, Cole Haan, Andrew Marc, along with some names you may not have heard of unless you're a "Project Runway"-watching senior at F.I.T. RM's old school staff will help you navigate the two-level, 15,000sq ft space -- but won't creepily follow you into the changing room with 14 different pairs of pants if all you need is a sweater.
If you're worried that your neck's too big for band collars or you have a Weeble's torso, Rothman's customizes shirts and suits in-house, and can usually get them to you in 2-3 weeks. To see how custom shirts sharpen your look, check out ESPN's on-air commentators, many of whom sport Rothman-wear. Seriously -- check out Trey Wingo's threads and you'll realize why he has a restraining order against Suzy Kolber.