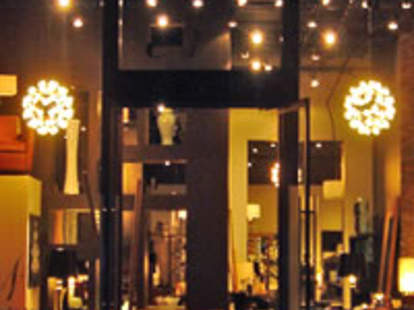 A well-appointed apartment can separate men from grad students and homeless people -- but hunting down crisp furniture takes cunning, patience, and bootfuls of cash. If you have none of those, hit Natrona.
Natrona's owned by Pastis-waiter-done-good Austin Nagel, who, while de-buttering a croissant for Moby, had this realization: men want cool, distinctive furniture, but won't leave their borough or exhaust their Pernod money to obtain it (and won't wait six months for shipment either). Nagel's centrally-located, two-story showroom is stacked with offerings that seamlessly blend modern style w/ classic comfort -- stuff that doesn't look like your neighbors', but at the same time doesn't look stolen from the Guggenheim's "Screw The Human Body" exhibit.
To facilitate your apartment's overhaul, Natrona is offering Thrillist readers 15% offeverything in the store -- to qualify, just mention this email. Among the pieces their crack staff can show you:
A girthy pony-hair chair-and-a-half: wide enough for you and a reasonably thin woman. Or just an unreasonably fat you.
A tufted cordovan leather cube chair: Magisterial in appearance, but too cozy for a real throne -- you'd constantly fall asleep, and your vassals would write "knave" on your face.
An enormous layered wood table: Equally suitable for feasting, plotting securities fraud, or hiding behind during a lion attack.
As for that anguished wait between purchase and delivery: there isn't one, because Natrona keeps its entire line in-stock. Simply pick out your goods and let Natrona's delivery service do the rest -- and you can be making ass-dents on your dream couch that very day.