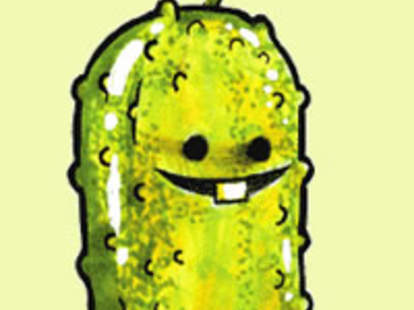 The pickle is the ideal foodstuff: crunchy and delicious, it masquerades as a vegetable despite having minimal nutritional value. Sadly, pickles don't offer much in the way of variety -- or at least not 'til now: Wheelhouse Pickles.
Using only the freshest ingredients, this fledgling Brooklyn producer prides itself on its willingness push the boundaries of brining Beyond The Realm of Imagination. The treats their impertinence hath wrought:
Basic Offerings: These include Chicago-style Full Contact Sport Peppers and grilled-cheese-ready Bread & Butter pickles sweetened w/ brown sugar, dried currants, and mahleb (sounding like the utterance of a demon-possessed child, these are actually pulverized black cherry pits).
Beyond Basics: Pickle madness sets in with Hendricks-cured Gin & Turnips (ideal for martinis), Horseradish Spiked Wax Beans (Bloody Marys), and Irma's Pears -- 2005 "Best Fruit" winner at The Rosendale International Pickle Fest, which drew contestants from as far away as Japan, and Schenectady. There's also an ever-changing selection of "Whims" -- impulsive creations like Champagne Vinegar Dill Spears that Wheelhouse isn't afraid to try out on an unsuspecting...picklic.
You can get your Wheelhouse at a few clued-in Brooklyn stores. Or you can order through the website, and they'll send out your shipment within a day or two -- so you can serve them up at holiday parties before you yourself get pickled beyond the realm of imagination.