Summer Essentials -- and Non-Essentials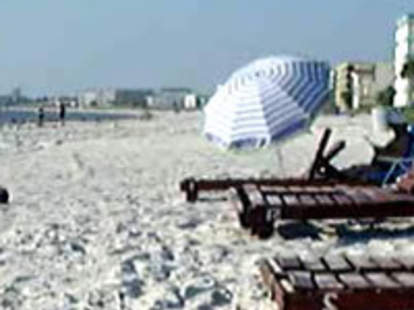 Summer's not official until there are several hundred rundowns of what's hot and what's not.
Clothing
Hot:
Summerounds
$77 at
CordArounds.com
The main problem with seersucker pants: no crotch ventilation. Say hello to Summerounds, lightweight seersucker pants that, thanks to less constrictive horizontal ventilation seams and lightweight linens, reduce crotch heat -- keeping you comfortable and cool all summer long.
Not Hot:
Khaki pants
Bad news for junior high Math teachers and bar managers at Applebee's, but great news for homeless people, who'll be finding garbage bags full of them everywhere.
European Island Hotspot
Hot: Hvar
Hvar-4u.com
In July and August, this Adriatic beach city is packed with people trolling the Dionysian club scene. Quickly gaining reputation as newer, cheaper Ibiza.
Not Hot:
Whiting, Ind.
Blighted, non-European/non-island that has made countless "most depressing place to live" lists. Think of the most beautiful place in the world you've ever been to. Now think of the exact opposite.
Summer Chick Magnet:
Hot:
Puggles
Puggle.org
Tiny and approachable, this pug/beagle mix is still passably masculine. Tucking one under your arm guarantees the ladies will look your way this summer -- even if you have a cleft palate and spina bifida.

Not Hot:

Dead Puggles

Ladies tend to frown on animal cruelty. So, instead of carrying around your dead puggle because you can't afford another, just place it in a shoe box and bury it in your backyard, cheapskate.