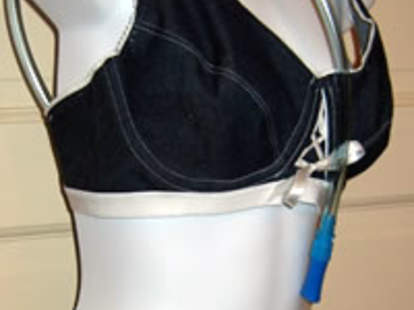 Though the Beer Belly already allows you to smuggle liquor anywhere you're willing to look fat, it's not fair that you have to bear the booze burden alone. Have your lady carry her weight, with the Winerack.
Like its beloved patriarch, the Winerack undergarment incorporates stealthily slung, CamelBak-esque bladders to get sauce past even the most exhilarating admission frisks. But whereas the Beerbelly lends the wearer an air of grotesque obesity, because of the over-breast hooch sacks, this two-sizes-fits-most sports bra claims to convert underdeveloped gals into succulently busty women -- turning A cups into double Ds, and double Ds into sloshy surface-to-air missiles
Unfortunately, the Winerack is still in development, but they desperately need beta testers to perfect it. In the spirit of science, email us pics of your girl -- the three most qualified will get test units, and their lucky guys will win Beerbellies for themselves. Then you and your GF can finally be equal partners -- completing one another in bulgy, inexplicable drunkenness.