Affordable antipasti in Lower Pacific Heights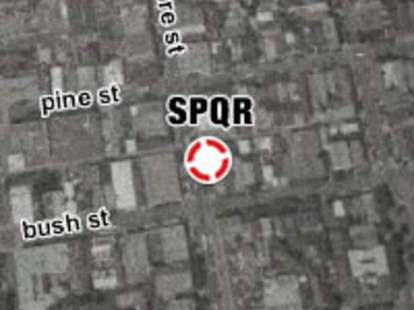 To enjoy food from a truly superlative chef, you must make a reservation weeks in advance, pay dearly for each morsel, and wear a jacket depressingly bereft of Yosemite Sam appliques. For top cheffery that doesn't violate your principles of lazycheapskateslobbery, try SPQR
SPQR's a neighborhood Roman osteria run by the team from A16, masters of Italian cuisine and the 2nd most popular geriatric pastime...BANGO. The antipasti-heavy menu's the result of months in Rome researching traditional dishes like lamb cacciatore, oxtail canneloni, and Suppli al Telefono, a fried rice ball and mozzarella appetizer that can connect you directly to 1-900-spend-more-time-in-a-gym.
The 60 wines are mostly from Lazio, the Italian province that includes Rome, where they've been stomping grapes since the gods were many, and the number of AA chapters was naught.
Price-wise, entrees generally fall under $20, they're not even taking reservations, and no jacket's required -- so the only preparation necessary's to iron your Warner Brothers character of choice onto your stunning fleece vest.