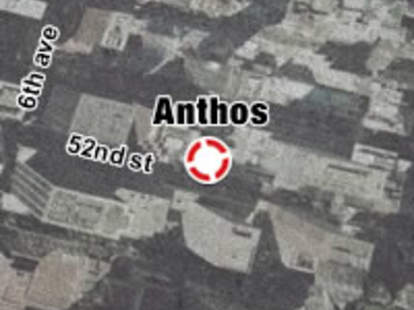 Since time immemorial, Greek food's been represented by burnt offerings to the gods, and deli posters featuring an excessively hot woman lasciviously eying a gyro. Here to put a stop to that crap: Anthos.
The story: chef Michael Psilakis already had an upscale, cuisine-focused eatery called Onera, but he converted it into a casual/cheaper spot to make room at the top for Anthos (apparently, America may be ready for a Mormon/Black/Woman/Rudy president, but not two high-end Greek places). Now, Anthos picks up where Onera left off, with entrées that go far beyond rotisseried mystery meat, e.g.: Grilled Swordfish w/ Seftalia Cypriot sausage and baby octopus, and Rabbit Hilopetes in black truffle juice w/ burgundy snails in dry vermouth. There are also Zeus-ified raw offerings, like yellowtail w/ ouzo-macerated cherries. Even baklava gets tuned up, with a walnut cake/cinnamon ice cream variant sure to stoke reactionary anger in those ruthless pastry purists, the Talibaklava.
In the end, you'll thank Anthos for unbounding Grecian grub from its feta-pita shackles. If by simply patronizing Anthos you don't feel you're offering Psilakis enough gratitude, further glorify him by slaughtering 100 bulls.