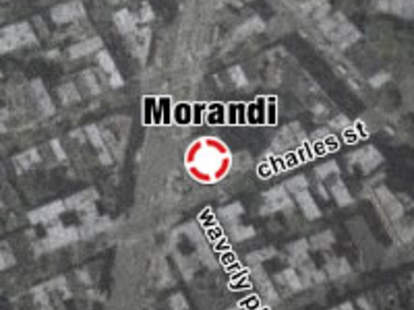 Between Pastis, Schiller's, Pravda, and Balthazar, Keith McNally's given you NYC's best spots to, respectively: pick up women while pretending to be European, gorge on fries, drink vodka, and recoil in horror as a man affecting a European accent seduces your aunt. Now you get a date spot: Morandi.
Opened last night for friends/family, Morandi serves seasonal Italian fare in a space that's "rustic, unfussy, casual, and a little sophisticated" (the exact words used by a reformed John Rocker in a recent Voice personal ad). McNally says Morandi's primarily a restaurant: there's a great bar, but it's more for eating at than lurking beside. And the tables are spaced further apart than at his other joints -- so you can engage in "Embarrassing Confessions" small talk without having neighboring tables find out you tape Boy Meets World reruns.
A few suggestions from Mr. McNally:
Appetizers: the Burrata (a creamy mozzarella) or the Sardelle con menta (sardines, hopefully not creamy).
Entrées: McNally recommends the Branzino, but who doesn't like the sound of a $45 veal chop
Wine: There are representative wines from all of Italy's 20 regions, with McNally's under-$30 pick being the Orvieto Classico, from Umbria. Over-thirty? Your aunt.
Morandi's dinner service officially starts Sunday, though there could be a few open tables this week (the reservation line just opened). In two and three weeks, they'll open for lunch, then 8am breakfast -- perfect if you're dating someone you're embarrassed to be seen with, like John Rocker.