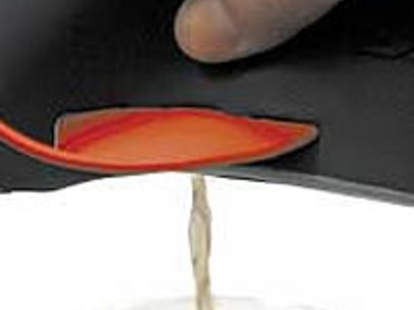 As temperatures rise, a man's thoughts naturally turn to the beach/pool/nudist camp -- near-perfect environments except for the glaring lack of places to hide liquor. Luckily, Reef's Dram Sandals can fix that
The second wonderful fusion of drinking and socklessness from Reef, this fashionable footwear holds 6oz of hooch (the same amount as the hip flask your uncle nips from while operating heavy machinery). 3oz fills each heel's tougher-than-steel polyurethane sac, accessible via the sandal's integrated fin key/Allen wrench. Contents are visible through thin sole windows, and the bottoms feature an interlocking cocktail shaker design -- subtly hinting at your outdoorsy alcoholism without throwing it in the face of your sun-tanning AA sponsor.
Besides your choices of liquid -- clear, brown, blue Curacao -- you have options for sandal color: navy, brown, and black/white, the perfect compliment for your tuxedo t-shirt. With all you save poolside, you could splurge on a nice bottle of beer -- which you can sneak back to your chaise in a 12oz Anus.