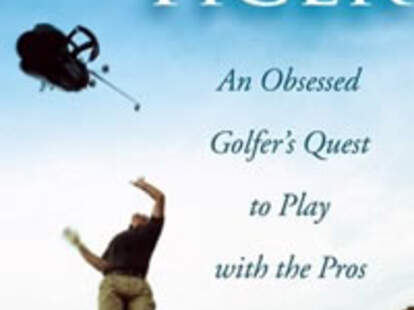 In 2003, Tom Coyne chased a dream down to Florida to become a pro golfer, a yearlong adventure he chronicled in Paper Tiger. Close to 30 with a scrubby 14 handicap, practically engaged, and living on credit cards, among Coyne's biggest challenges was to appear legit -- tough, considering he almost vomited on the first tee at Q school. Today he shares his hard-earned knowledge.
Don't Pimp Your BagNo ball retrievers, no clip-on club-scrubbers, no souvenir golf towels dangling from a brass clip -- and good lord, no stroke counters. Woods and putter in the back row (wearing their covers, always), irons in the front, arranged according to descending length.
Dress Down AccordinglyThere is an inverse relationship between the height of your socks and the perceived depth of your talent. And never wear two gloves (this isn't batting practice), and remove your glove when putting.
Speak SticklyAlways use expressions like "stick." As in, "Man, that guy can play stick." Or, "That kid's an absolute stick." It means golf, but bad-ass golf. And when applied to a golfer, it's the elite players' ultimate compliment.
The Green is Not Your Fire HydrantDon't mark your ball with a penny, a tee, or a Stella Artois. Use a quarter, perhaps with a year/state of some personal significance. A '69 is a player's quarter, evocative of a target score (no matter if that's a front nine target for yourself).
Remember two things though: these rules only make you look competitive. And, when you chase your own dream and fail, Coyne's already claimed the fallback of publishing a book about it.