ATL's only ITP cap-busting facility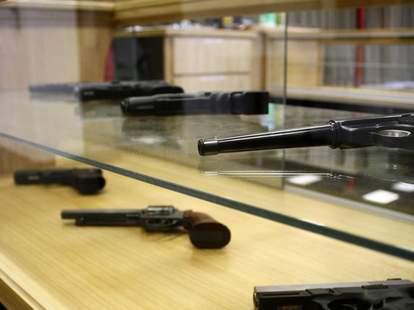 Auto mechanics are notorious for ripping you off, but hey: that universal spoiler isn't going to epoxy itself to your Suzuki Samurai! Hit a former auto shop that isn't the worst anymore, because you can shoot guns in it: Quickshot Shooting Range.
Set up in an former body shop warehouse, Quickshot's a state-of-the-art shooting range (and the only one inside 285) with seven lanes, HEPA filter technology that removes 99.97% of lead from the air, and free (legitimately delicious) home-baked cookies, started by a Duluth-raised demolition biz owner who says he's targeting "the in-town crowd more than the die hard enthusiast", though he still promises a Hans-on experience. Lanes and ammo're all pretty reasonable, and you can rent pistols for $10, from the semi-auto .22 Smith & Wesson M&P (military & police issue), and a 9mm plastic Glock 17 with "safe action" firing pin lock system, to a .22 Ruger Mark III Rimfire and a 40-cal Beretta, which is best used for firing rapidly without sacrificing accuracy shooting as many holes as possible in the car of the same name. 24-year law enforcement vet Bill's always on-site, and leads weekly basic shooting and self-defense classes; he also makes noobs watch a short instructional animation he made, which features an English-accented Palin lookalike reciting "range rules" -- which, for Screech, is simply "have none".
Early next year they'll have a full range of auto and semi-auto rifles, after-midnight shooting sessions, and will also let you fire off AK-47s when they introduce Full-Auto Fridays -- also what you call those days when like 10 people pile into your Samurai, and you just cruise around showing off those new clear "Euro" tail lights, man.