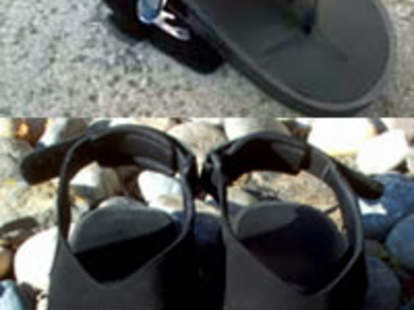 Carrying a bunch of stuff in your swim trunk pockets is a hassle and when wet makes you look like you just crapped yourself. Thankfully, the shoe wizards at ArchPort have designed a sandal to minimize your load
The sandals are standard, unattractive, ankle strap models, equipped with small compartments in the arches. Each holds a fitted wallet-esque insert, while leaving enough room to accommodate keys or other small items. For safety, the cavities are secured with snap locks, plus Velcro covers that seal out sand, debris, and the ashes of murdered lifeguards.
The APs are made with comfortable polyeurethane midsoles and are simply sized small, medium, or large. They come in blue, black, and brown so you can buy the hue that best matches your suntan or melanoma
But even though you can now chuck your mugger-attracting fanny pack, you still may be a target, because you're ugly. If you're accosted, pat your pockets, play dumb, and crap your pants to distract them from your sandals.