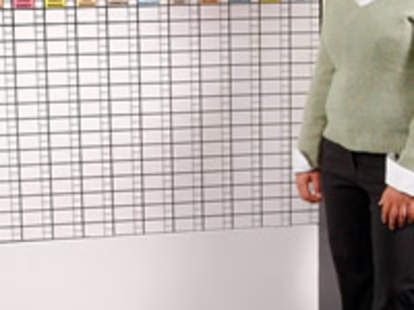 Your Fantasy Football draft's approaching. Throw away the tattered poster board and broken pencil, and take your league to an absurd level of professionalism: FJ Fantasy Sports' new free-standing draft board, ready to decorate a mildewy basement near you
Machine-carved from reinforced cardboard, the Board is endorsed by the highly influential "Fantasy Sports Trade Association". The website's confusing, but the only thing you need to remember is "Jumbo Size Draft Board + 504 Jumbo Auction Size Labels". This big boy measures 3.5' X 9', enough room for up to 14 league members to stake their claims over 23 tedious rounds. The Jumbo's labels come color-coded with player names, positions, and space to write in auction prices. They're also visible from 38' away -- perfect for general managers whose draft acumen's undercut by blindness.
Since winning's about the glory, FJ also offers trophies that can be personally engraved for your league's champion. So, if purchasing the Jumbo doesn't prove how serious you take your pseudo-sport, riding around with a trophy on the hood of your car will silence all non-believers.