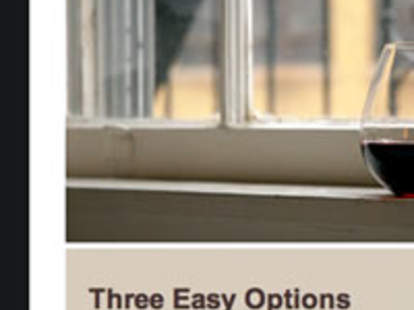 You wouldn't want sex tips from a grizzled old codger, so why entrust your wine recommendations to one? Get a monthly infusion of age-appropriate vino from RiotWine
As their unruly name suggests, RiotWine's a next-gen wine-of-the-month service that caters specifically to the younger, non-arthritic man's oenephilic needs. RW's twin monthly picks come straight from young-buck wine experts -- who are so roguish in their appreciation, they would kick you in the balls for calling them "sommeliers". All selections come from RW-exclusive wineries and others so boutique and under-the-radar, uncorking one at a dinner party will enrapture every guest -- possibly even diffusing the silent rage inspired by your off-the-cuff comment about "slaves"
If in a fit of purple-toothed exuberance you yourself pledge to learn the ways of the grape, RW also hosts a no-nonsense blog complete with pictures of users lustily doming two weeks of their winish largess. A final bonus is Riot's selection of printable WineCards -- gifts so arty, your partners will overlook the fact that your sex life is almost totally comprised of sponge baths.