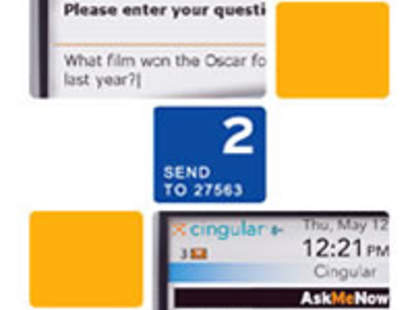 There's nothing more frustrating than knowing you're 100% right -- but having no way to prove it to your idiot friends. Get the validation you need from AskMeNow.AMN is a human-based search-and-reply service that will respond to your texted query with answers in moments. A hive of Internet'd keyboard jockeys work tirelessly to answer any -- and every -- question you send to their Philippines HQ, thereby assuring you truthiness more direct than a cell phone full of robot-generated web links. And their third world salary structure helps explain why it only costs a quarter to assign a stranger a research project on anything from the origin of the sandwich to the number of times Ricky Henderson stole third... in night games... as a baby-faced 40-year-old. Get the indisputable results delivered to your phone within moments for any point in contention, such as:
"What language is spoken in Argentina?"
"Who's bigger: John Travolta or Kirstie Alley?"
"Did Kentucky Fried Chicken change its name to KFC because they raise genetically engineered, double-drumsticked faux-chickens called Cluckers?"
While AMN beats a links-rather-than-answers GOOGLE text, they still can't prove the un-provable, and you'll receive an apologetic failure notice to queries like "Britney Spears" and "responsible mother?" So you can risklessly test their worthiness, AMN's giving Thrillist subscribers sixty days of free answers when you text it the code "B2". That's two months to prove your superior intellect, or two months of dog-faced shame as everyone learns what a huge liar you are.