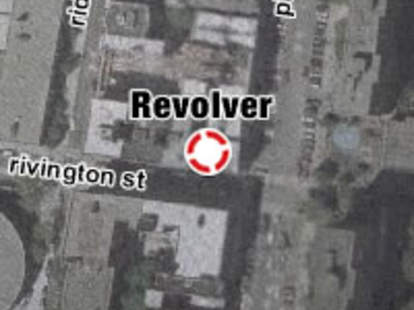 Two great things about the new breed of self-proclaimed "rock bars": slutty-yet-disease-free girls, and crowds hell-bent on getting wasted. Three crap things: club-like door policies, tired playlists, and drink prices so high you can't even afford to choke on your own vomit. Promising all the greatness with none of the offal: Revolver, open to the public tomorrow.
Situated so east on Rivington it's practically floating in the River, Revolver's a darkened lounge filled with tufted leather couches, candles, and skulls, lorded over by a mural of a pistol-wielding Elvis.
The deal:
The DJs will only spin rock -- so your power chord-fueled adrenaline rush won't be catastrophically interrupted by "Groove is in the Heart".
While you will hear hair-metal standards, you'll also get harder and more obscure stuff. The bar will also be testing out unreleased tracks sent straight from the record labels -- so your shouts of "Boring!" could send a promising band straight to Kenny's Castaways.
Alcohol-wise, there is bottle service, but even Bon Scott would appreciate it: it's purely optional, relatively cheap ($175), and available at the bar -- if you want, you can enjoy it sans table, stalking the room with the neck slipping out of your trembling hand.
The cocktail list has two big balls: "The Double Shot of Jack" (two shots of Jack, not listed on menu) and Devil's Water (two shots of jalapeno-infused Cazadores Tequila, for $7). To chase it all down, 16oz PBR tallboys are only $3 -- after 128oz you'll actually wish they were pricier.
Outstandingly, except during events, Revolver has no door policy -- so you're welcome to drink, carouse, and rock, whether you're great, or just offal.