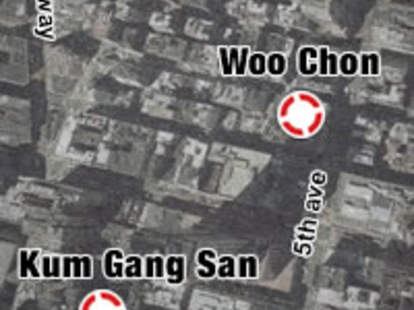 Korean BBQ's ideal for gluttonous meatistry, but doing it right takes expert knowledge. Fortunately, Matt Wu -- Brooklyn native, businessman, Korean -- has offered his assistance. Wu's wisdom:
WHAT TO EAT
The lordliest dish is
kalbi
: chunks of beef short ribs that're juicier and fattier than a farm-raised Horatio Sanz. If offered, go for the lordlier still King
Kalbi
, a superior cut, served on-bone, best washed down w/ Johnnie Walker Black
HOW TO EAT
When feasting on multiple meats, ask your waiter to change out the grill surface between servings, or
daejigogi
marinade will mix with
bulgogi
juice -- a sizzling disgrace for you and your ancestors. Don't order chicken, lamb, or seafood -- Koreans don't traditionally grill these, and only offer them to placate foolish Caucasians.
WHERE TO EAT
For large parties:
Woo Chon
10 W 36th St, between 5th and 6th; 212.695.1342
On K-town's outskirts, private rooms are always available, so your group can discreetly regress to food-in-hair dining etiquette. Best non-
kalbi
dish: Pork Belly Strips
When it's 5am:Kang Suh1250 Broadway, at 32nd; 212.564.6845This rare champion of charcoal grills is open 24/7. Also, their bulgogi's bulgolicious.
With a date:Kum Gang San49 W 32nd St, between Broadway and 5th; 212.967.0909The waterfall, rock cave and baby grand -- all very Bond Villain-esque -- will impress your woman, but ultimately won't make up for you still making her cook.
When you're in Queens:San Soo Gap San171-10 Northern Blvd, between 171st and Auburndale; 718.445.4850The best spot in Flushing's unimpeachably authentic Korea Town. Prove your worthiness here, and Matt Wu will consider stopping secretly hating you.