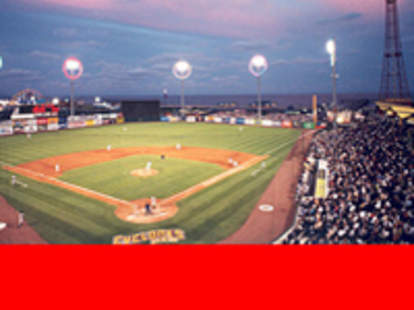 Thrillist loves minor league sporting events -- rousing displays of spirited competition we can completely ignore as we sprawl out in the cheap seats. That's why we relish catching the Brooklyn Cyclones, the Mets Class A Affiliate in scenic Coney Island.The best thing about the Cyclones is Keyspan Park, which has all the trappings of a Major League park, without the prices, crowds, security or skilled athletes. If being surrounded by out of work, overzealous idiots sickens you, you can splurge on a $12 field seat. However, the view's great from everywhere so there's no need to spend more than $5 on an outfield ticket -- which is where Thrillist teaches other peoples' children to hurl obscenities at outfielders who try their best and fail.Even if baseball lulls you to sleep faster than the Percocet you pop to drown the memories of high school PE shower hazings, you can easily pass three hours at the concession stands. You'll find no lines, large $4.25 draughts and the occasional un-chaperoned high school babe. Hit on one, and experience the exhilaration of fleeing from her sluggishly obese but still deadly ex-marine father*. The Cyclones' roster is mainly comprised of players who'll never make the Majors. Here's a rundown of the interchangeable and forgettable Cyclones squad:
Manager: '86 Met hero Mookie Wilson. Like HoJo and Tim Teufel (both former Met players/Cyclone skippers), he's hoping his World Series magic will lift the team to glory. Hats off to you, Mookie, you crazy dreamer.
Most Intriguing Prospect: Kaz Matsui. Currently a Met, but expect him to be sucking for the 'clones later this summer.
Thrillist's Favorite Player: The drunken Irishman roaming the bleachers with a cowbell.
Unless you're offended by the possibility of horrid play, this is a guaranteed great time. If you're too uptight to kick back with the Cyclones, have fun wasting all your money on the hassle and heartbreak that comes with following a real team. Go Cyclones!

*Studies confirm these men make up 95% of the Cyclones fanbase.