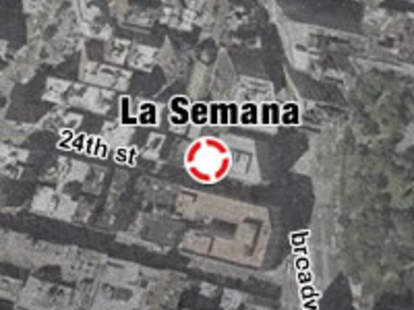 In New York, finding an affordable hotel room for temporary refuge is borderline impossible, especially if you're anal about strangers' blood, or lice. Whether you're seeking an exotic-ish boudoir for meaningless flings -- or just a private spot to recover from work-related nervous breakdowns -- try La Semana.Conveniently located in the Flatiron District, La Semana caters to "On the go people", which is easier to spell than "philanderers". The hotel was established in the disturbingly permissive year of 1978, but it's housed in an attractive turn-of-the-century building, so you'll feel semi-classy as you saunter up to the front desk with your not-girlfriend. Lodging options include Jacuzzi Rooms ($189/night) -- standard rooms equipped with 6' tubs -- and Jacuzzi Suites ($259)*, which come with the latter, plus so much more:
Steam room!
Walk-in shower for two!
Entertainment room with big screen TV, sofa, and love seat!
Mirrored walls and ceilings, and mood lighting!
Because overnight stays arouse suspicion, Semana also rents Jacuzzi Rooms for a 7hr "Sunday Day Rate" ($120). That might offend your Lord & Savior, but won't leave you bankrupt with bugs in your hair. *La Semana's website quotes their old rates, but these are the real deal.