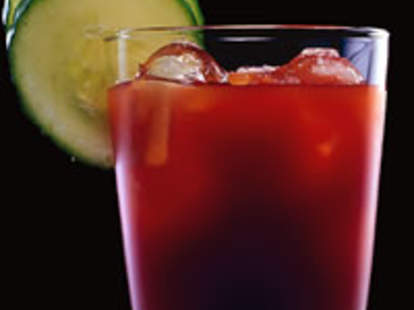 As far as annual hangovers go, today's is even worse than January 1's: New York's not just recovering from a night, it's recovering from three months of shiftless slacking. To resuscitate yourself, you need an absurdly stocked Bloody Mary -- and Absolut Peppar can help.
Peppar is the George Peppard of vodkas: made with jalapenos and other mouth-scorching greenery, it's the only pepper-infused spirit on the market. It's perfect for adding kick to a Bloody -- especially when you lack the strength to shop for hot sauce.
But because this is an especially bleak occasion, Peppar has gone beyond Bloody and created the Bloody Burns. Drink one, and you'll almost certainly recover in time for next summer.
The Bloody Burns
1 part ABSOLUT PEPPAR 1 part Fernet Branca 4 parts tomato juice 1 clove garlic 1 pinch celery salt 2 dashes Worchestershire Sauce 1 dash Tabasco
Score the garlic with a knife and rim a large tumbler. Build all ingredients over ice. Garnish with cucumber slices -- or, if you're skipping lunch, beef jerky.
If you're not tempted by the Burns, or if one of its ingredients violates your religion's dietary laws, check out AbsolutDrinks.com for 25 more beverages. If you're feeling too slothful to mix anything, period, relief is on the way: each bar below pours a Bloody that also begins with Absolut, and ends at the gates of merciful recovery.
Essex:120 Essex St; 212.533.9616Prune:54 E 1st St; 212.677.6221Thor:107 Rivington St; 212.796.8040