Wearing Earth-friendly clothing can make you feel really, really good about yourself, but if that means rocking a scratchy hemp sack, the only people feeling good will be those laughing at you. Get sharp enviro-gear from Loomstate


Vaunted for their sustainable manufacturing methods (hand-weaving raw, organic cotton on century-old looms, etc), Loom's fall line centers around what they see as three archetypes of Sixties counter-culture: the Student Protestor, the Environmentalist, and the Loner Athlete (the guy who got cut? Mike Katz?). The Protestor includes "prep-school staples" (flat-front chino, the "Kelsey" washed black and check button down), plus outerwear like the cotton/"decycled" polyester drawstring hooded "Hawkeye" jacket and the garment dyed, shoulder/elbow patched "Bering" crewneck sweater -- both of which contain "elements co-opted from the government and military", which might mean "aliens", but no one's saying. The Loner's repped by the cotton-blended "Oasis Stadium" jacket and the raglan-sleeved blue/white "Barry Baseball" tee, while the Environmentalist look (think Army-surplus meets bulky outdoorsman) is fronted by "Stetson" flannel button downs (in Blue Combo or Washed Black) and the sturdy cotton, dual-button-pocketed Wet Sand "Guthrie" shirt jacket, which should go well with your boxer-jeans


Recommended Video
Design Your Own Desserts at This Futuristic Cafe
If the 60s isn't your steez, LS also offers vintage-styled tees and fleece hoodies with graphics of things like tomahawks and giant trees -- so you can hug yourself even when no one else will.
Previous Venue
Next Venue
Venue Description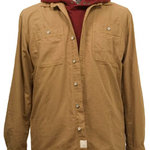 1. Loomstate
511 Tremont St , Boston, MA 02118
Vaunted for their sustainable manufacturing methods (hand-weaving raw, organic cotton on century-old looms, etc), Loom's fall line centers around what they see as three archetypes of Sixties counter-culture: the Student Protestor, the Environmentalist, and the Loner Athlete (the guy who got cut? Mike Katz?).