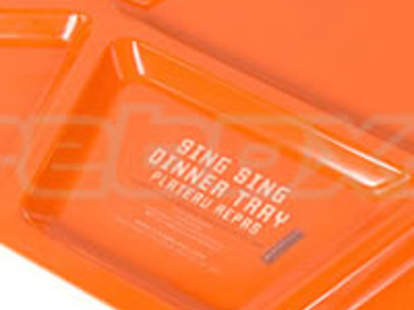 Few things are more humiliating than being caught browsing the terracotta salad bowls at Crate and Barrel. Your new dinnerware should come from a manlier kind of joint: prison.
The Sing Sing Prison Food Tray is an exact replica of the serving tray used in the cafeteria at New York's notorious maximum-security facility. It's ideally suited to celebrate your right as a free man to eat in front of the TV and watch whatever you want, without fear of being shivved.
The SSPFT combines the practical aesthetics of a Swanson Hungry-Man dinner with the eye-catching orange tint of your older brother's '76 Camaro. It features six recessed compartments -- perfect for a burger, mac and cheese, corn on the cob, mac and cheese, ketchup, and mac and cheese. It's sturdily constructed of dishwasher-safe melamine (the same stuff used in Formica), so it can double as a handy weapon, just in case your roommate tries to recreate the shower scene from American History X.
Best of all, you won't have to actually be incarcerated to enjoy the SSPFT -- so you can stop plotting an ill-conceived Manhattan heist just to avoid shopping for crappy girlish plates.