Reversible Smoking Jacket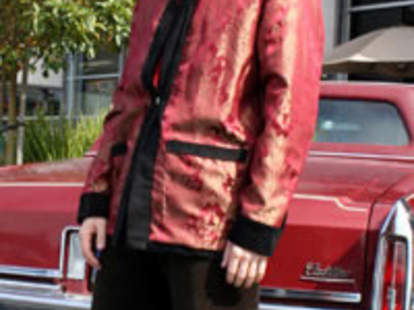 The smoking jacket is the crucial wardrobe accessory for any budding Hefnerite, but committing yourself to owning one portends a major lifestyle adjustment. Instead, hedge your bets and try Cordarounds Reversible Smoking Jacket
At first glance, the CRSJ is a horizontal-stitched casual button-down coat that comes in black, blue, or brown. It's the perfect coat for ubiquitous outdoorsy autumn events like Penn/Princeton games, apple picking, and witch burnings.
But if your bookish cocktail party suddenly devolves into a freewheeling Bacchanal, just reverse the natty side of your coat to reveal a satin-y, gold leaf brocade. The luxuriant pattern is offset by a single skull-faced button -- letting everyone know you're the man to come to for shadowy swinging and fragrant tobacco
Buy your jacket now and you'll enter the fall orgy season more prepared than ever.