Converse Jackass Chuck Taylors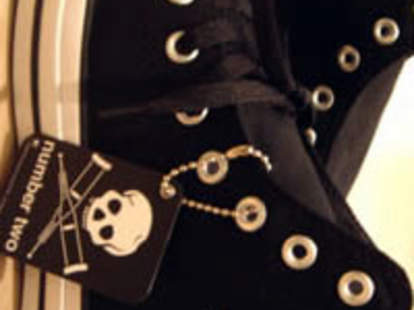 Converse Chuck Taylor sneakers have become the all-purpose shoe for any occasion -- impromptu basketball games, sitting on the couch eating Funyuns, or hipster weddings. But this September, they can also be the perfect shoe for kicking your friend into a tank of eels, thanks to the Jackass Chuck Taylor All Star shoe collection.That's right: The timeless CT has been altered to include the Skull and Crutches where the Converse symbol usually goes. Available styles include:
High Top Canvas
High Top Leather
Double Tongue High Top
Low Top Canvas
Canvas Slip-On
The Jackasses come in a variety of hues, so you can match your footwear with your outfit, or use different colors to indicate the level of difficulty of your moronic stunts. Of course, these sneakers do not make you invincible. But when your shoes fly off after throwing yourself in front of a barrelling tractor, you'll be assured that any lucky witness will be pleased to inherit your neoclassic footwear.