SLAPPA Metro Pro Laptop Case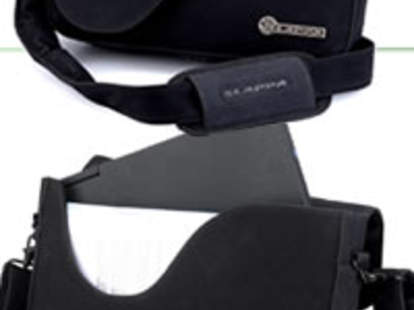 When shopping for a laptop bag, you want something that's functional and good-looking -- just like you do in a set of kitchen knives or a plumber. Lucky for you, the Metro Pro Laptop Case is here.
Made by ridiculously named outfitter SLAPPA, the MP is less than half the price of comparable laptop cases, but still manages to be:
Stylish: With its brushed silver logo and modern design, you'll feel like the kid with the "Transformers" Trapper Keeper -- as opposed to the lispy fatty with the "Snuggling Kittens" model.
Practical: It has two big compartments, plus an MP3/Cellphone holder, and two inner pockets with just enough room for adapter cables, loose change, and a few never-read copies of The Economist. It also comes with 3/4" padding to protect your computer during crowded bus trips and team-building office hay rides
Durable: With its water- and puncture-proof BuckBlast suede exterior, you'll never have to worry about your computer getting destroyed by rain, or an errant blow dart.
Best of all, the MP's compactness makes it compliant with stricter international carry-on regulations. So whether you're traveling overseas for business or hiding from Pygmies in a fetid bog, you'll never have to be without your laptop.