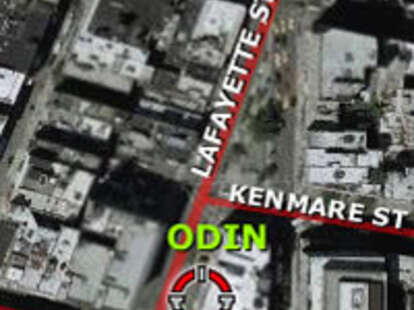 Your average clothing boutique doesn't cater to men's shopping preferences -- understandable, since most men's preference is to not go shopping. But just-opened Soho store Odin accommodates the penised shopper in vital ways
Odin opened their original East Village location in 2004, featuring emerging designers without distribution deals. The new store's similar, but more than double the size, guaranteeing customers unique threads, and the sad illusion of unique personalities.
Beyond the square footage, here's how Odin helps you out
It's One Stop: Everything from tee shirts to dress clothes (and soon, shoes), plus travel and laptop bags, sunglasses, and grooming products -- essential if the meagerness of your wardrobe's matched by the pungency of your BO.
They Know Sizes: Different designers' sizes vary wildly -- sometimes an XL fits, sometimes it hugs you like a sausage casing. Odin'll save you time, effort, and the shame of a changing room mirror briefly exposing just how fat you really are
Constant Changeover: Odin introduces new inventory every three weeks. If you don't like what you see, just come back later -- unless you end up blowing your clothing fund on, say, adopting a child from Ghana.
Even Odin's jewelry is pleasingly mannish (and violent). Their silver chains sport hand grenades, machine guns, bullets, and most disturbingly, a heart with a saw chewing through it -- a grim reminder of less enjoyable, pre-Odin shopping experiences.