Post-Holiday Fashion Sales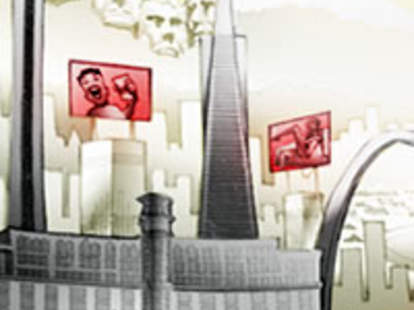 BarneysUp to 50% off at Barneys.comBarneys stocks their gear in their 2X or 4X sections depending on how many times more expensive it is than the price you'd feel okay paying. But now get all the stylishness at the 1X price you crave, including jeans from Rogan, Acne, 7 For All Mankind, and Earnest Sewn -- a far cry from the acid-washed pair you found scouring the .05X section of TJ Maxx
Active EndeavorsUp to 50% off at ActiveEndeavors.comThis Chicago-based online megastore stays on the leading edge by ferreting out up-and-coming designers and dumping outdated duds that pack all the sex appeal of a Meatloaf acoustic set. Their post-holiday sale features long-sleeve shirts and hoodies, both of which are perfect for disguising your identity as you sway to the gentle strums of "Bat Out of Hell".
EluxuryUp to 60% off at Eluxury.comStocked with loads of upscale designers, this e-tailer to the label whores has normally exorbitantly priced items marked down as much as 40% -- so there's no excuse not to upgrade from your traditional e-slobbery
APCUp to 50% off at APC.frHardcore APC fans spend six months waiting for this place's semi-annual closeout sales. So get in quick for up to 50% off on boots, belts, gloves and other gear, or risk being beaten to the punch by a Francophile. Warning: skip the jeans, as their Euro cuts are tight enough to highlight even mild HPV.
Charles TyrwhittUp to 60% off at CTShirts.co.ukDon't let this London-based clothier's JCPenny-esque site repel you: CT's got all the quality of a designer label, minus the brain-exploding price tags. Better, the powerful online search function means you can fill the holes in your wardrobe quicker than your ex-girlfriend created them with scissors, after you bought her a scarf from JCPenny.