Sometimes you're up for the full Hamptons experience -- the sun, the parties, throwing up behind a Star Room banquette -- but more often than not you'd be happy just eating the seafood. To get stuffed without the jitney ride, hit Ditch Plains, officially opening Monday: a Hamptonsy oyster bar/fish shack from the owners of Landmarc. Not surprisingly, Ditch Plains' smallish space looks crisp (Manhattan diners and building inspectors tend to frown upon actual shacks) but they're promising a casualness inspired by morning surf sessions in Montauk. They're offering: 7am Breakfast: When intrepid longboarders catch a hearty, post-ocean meal. Fortunately, Ditch'll serve omelets, hash browns and sausage all day, 'til 2am -- 2am pig being just one reason you're not much of a surfer. Classic Seafood: Hamptons classics (baked clams, lobster bisque, etc), plus slightly tweaked dishes like a Lobster Roll w/Aioli and Mussels w/Chorizo. Non-fishy entrées include a generous cured meat basket, possibly inspired by mornings on Fire Island. Oysters Everywhere: In your eggs, grits, and most importantly, your alcohol. Their Oyster Shooter's made with Landmarc's house Bloody mix: the usual suspects, plus stout beer and ketchup to slow the creep of the delicious snot-de-mer down your throat. If all that's not Hamptons enough for you, throw on some white clam-diggers, and misspend Ditch's opening night doing lines off the bathroom sink. If anybody knocks, tell them you had one too many mollusk shots.
Recommended Video
You Can Now Get Artisanal Twinkies Delivered to Your Door in NYC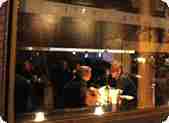 Previous Venue
Next Venue
Venue Description
1. Ditch Plains
29 Bedford St, New York, NY 10014
Named after the Montauk surfing beach, this West Village restaurant is as close to the Hamptons as you'll find below 14th Street. Ditch Plains' focus is fittingly on fish and oysters, but its menu is a celebration of all Americana food, especially the kind that reminds you of summer. You'll find fish shack staples like lobster rolls and beer-battered fish and chips, plus a grilled hot dog topped with mac & cheese and fish, pork, and chicken tacos. Not too mention, Ditch Plains' brunch service proves that Bloody Marys and pancakes are always a good idea.