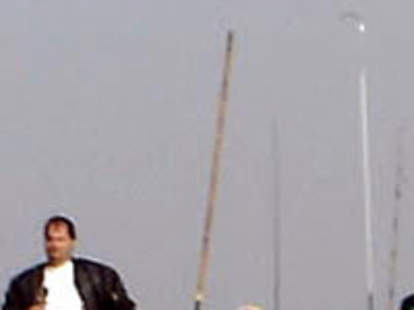 Catching the biggest fish is good for a few minutes of gloating, 'til you realize your take-home is a big, dead fish. Sweeten the deal with cold hard cash on a 50/50 trip aboard the Island Current.
The 50/50 isn't complicated: a minimum of 12 guys pay $100 each to troll the bountiful waters of the Long Island Sound. Half the kitty goes to keep the Island Current afloat, the other $600 to whoever reels in the fattest catch
Morning excursions head out for fluke and jumbo flounder, but since striped bass season just started we suggest spending an evening (6:30pm-12:30am) angling for these silver and black monsters -- which can exceed 50lbs. Equipment's provided, and no fishing license is necessary: the IC's "party charter" covers you, and provided your scaly trophy meets state size requirements you can keep it and eat it, or throw it back and blow your winnings at a steakhouse
The Current has no galley, so bring your own snacks and booze (try the Long Island Sound Iced Tea -- whiskey, Red Bull, and Dramamine). If winning $600 doesn't motivate you, note that full capacity's 21 passengers -- or you can amass a truly massive pot by filling all 49 slots on the 50' Island Current II. Of course, you could always fish w/o wagering -- but don't expect huzzahs when you stride into your favorite watering hole and slap a flounder down on the bar.