Get your cheese on in Culver City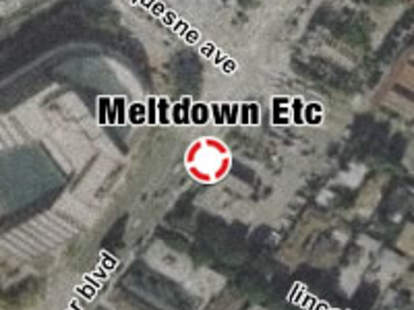 Many of your favorite childhood snacks are best left in the past (bugs, crayons, dog feces), but others can be elevated and then enjoyed well into senility. Giving this treatment to your after-school staple: Meltdown etc
Meltdown's a casual, lunchtime shrine to the grilled cheese, from a former Wolfgang Puck conspirator apparently frustrated by the Austrian's aversion to toaster-based cuisine. The menu (now eat-in only, but available for delivery soon) features simple side salads, soups, and a plethora of gooey glory, including:
The 3-cheese: A curdy trifecta of Cheddar, Muenster, and Fontina; recommended options include smoked ham, applewood bacon, and never saying "curdy trifecta" out loud.
Brie and Apricot: Eating this walnut-breaded sandwich is like gorging on a gourmet cheese plate, minus the consistently stiff and bland plate.
The Cleo: A bulging, breakfasty sandwich with dill-chive cream cheese, smoked salmon, scrambled eggs, caramelized onions, and the ability to predict the future in a thick Jamaican accent.
But the true classic is Meltdown's one off-menu item, the timeless white-bread/American-cheese melt -- which pairs perfectly with beetles, "burnt sienna", and lawn logs.