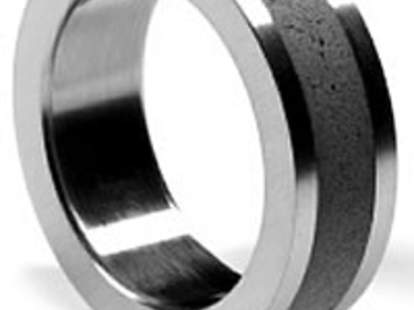 If you're going to wear man jewelry (or "mewelry"), you must walk a razor's edge: go too far one way, and you'll receive gratis Pinot Grigio from strange men in bars; too far the other, and you'll get withering Sopranos cracks from your buddies, and possibly more wine. For a piece you can wear without shame, check out Konzuk Concrete Rings
Designer Karen Konzuk's innovative lines eschew girly precious gems in favor of materials that could've been cribbed from an industrial site. The KCR collection incorporates smoothed, hard-dried concrete, which the 'Zuk sandwiches between beefy stainless steel and silver bands. The resulting styles are half engine-factory mechanical and half brass-knuckles tough -- a far cry from the iced-up pinky ring your track-suited, goomba-wannabe cousin wasted his junior college tuition on.
Should you decide to go all-out, Konzuk also makes cufflinks, which say, "Yes, I'm wearing a tux, but I also know how to operate a forklift." And if you somehow manage to run afoul of the actual mob, you'll have a few pre-splashdown seconds to congratulate yourself on your mewelry totally matching your recently-poured footwear.