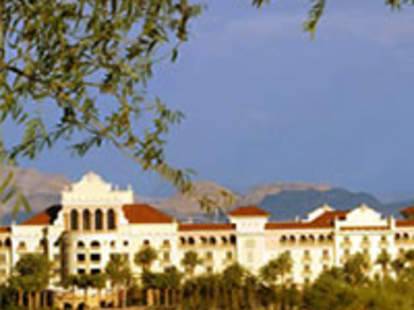 Though a ton of fun, the Vegas guys getaway is almost as cliché as the shrieking, dong-hatted bachelorette dance party. Just a little outside of Vegas, the JW Marriot Resort has a recipe for something above and beyond -- and the secret ingredient is money
Creatively dubbed "The Ultimate Mancation", the JW's package meets the most extravagant needs of you and 3 of your closest brothers-in-tang. The UM summit begins with a limo from the airport to the Marriot's Mediterranean style resort, 20mins off The Strip, in Summerlin, NV. For the next three nights you'll be headquartered in two two-bedroom suites, with a private butler at your command, a constantly replenished bar, and a $1,000 poker chip per man to gamble/wrestle the butler to the death for
The rest of your hairy-chested extravaganza includes:
Day 1
A limey ol' beer tasting and dinner in J.C. Wooloughan's Irish Pub's private dining room -- way less crappy than it sounds.
Just when you think you've been robbed, your transport for the trip arrives: two screaming red Ferrari 360 Spiders.
Day 2
A full-day of racing at Club Spring Mountain Motorsports, where professional drivers train you on the 3.5-mile track and taunt you for your irrational fear of fiery death.
Ratpacky feasting in the Carmel Room's vaunted private library: a gourmet steak menu washed down with enough top shelf liquor to magnetically pull Dean Martin away from death's icy gray embrace.
Day 3
Foursome of golf at TPC at the Canyons, kicked off with a $2,000 pro shop shopping spree for new clubs for each player to keep.
Spa afternoon at tony Aquae Sulis and a relaxing (yet emasculating) 19th hole foot massage.
Private 7-course dinner hosted in your suite by "celebrity" chef Gustav Mauler, followed by cigars and cognac on your deck for everybody -- even Gustav Mauler.
And even though this package is wildly expensive ($49,000), remember that its all-inclusive glory has been reduced by $6,000 (not including the golf clubs, funny money). Hooray. So book your package now and quibble about price later -- or risk finding yourself at Polly Esters fighting with a bridesmaid over possession of her colorful penis necklace.
Check out the sweet suite