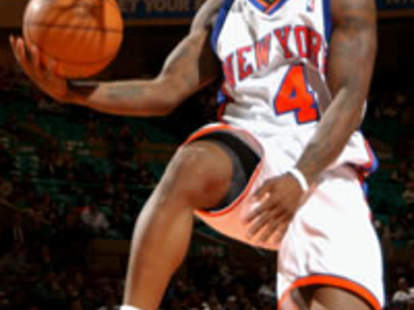 Everyone knows the Knicks' 2005-06 season was... sub-optimal. But there's an upside to a team finishing 26 games out of first: now you can get in on season tickets.
This might seem obvious -- few wins = available seats -- but in reality it's a narrow window: throughout the 90s, every single season ticket sold out, shutting Regular Joes out of the Garden, with nothing but a cold Blarney Stone stool as consolation. And the instant Knick fortunes improve, Joes will be Stoned again.
But now, you can grab a variety of packages: a full-season 44-gamer (~$1760, less than the price of one Spike Lee-side seat), a 22-gamer (~$880), a 15-gamer (~$600), and, for plebes, a 7-gamer (~$280).
As a bonus, the Knicks have been foolish enough to offer our readers exclusive incentives for purchasing ticket packages. Valid until Tuesday, August 29, if you call 212.631.5484 (or visit the Knicks ticketing site) mentioning Thrillist'll get you:
Bang for your buck: You'll be placed in the best seats of whatever section you opt for. So your view of promising youngsters David Lee and Channing Frye will be even better, as will the odds of Nate Robinson leaping into your eager lap.
Garden Floor Time: The first 30 people to snag season tickets get to play pickup ball on the same storied floor where an injured Willis Reed gimped the team to the '69-'70 Championship -- and where Anthony Mason once broke Will Perdue's hip just by staring at it.
Best of all, a 2006-07 ticket package gives you first option on the same seats for '07-'08. So when the Knicks finally get better, you'll be entertained by both the action on the floor and by the stinking horde jockeying in vain for the spot you already own.