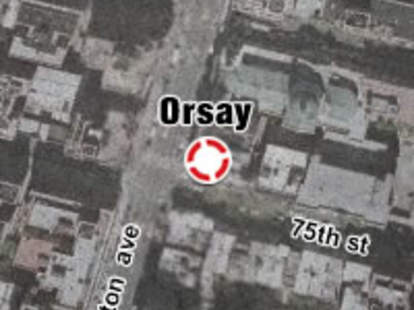 In the world of haute cuisine, there are no hauter words than "fresh kill". To taste the difference a buckshot execution can make, hit one of Orsay's Game Bird Dinners.
The GBDs are five-course, wine-paired feasts, featuring birds murdered in the UK, then immediately flown to Orsay. This first dinner showcases wild red grouse: a small, plump forager w/ dark, gamey meat, formerly of Scotland's Drumlanrig Estate, recently roasted in its own juices. Pre-grouse, you'll dine on Scottish Langoustine, and a "Poacher's Broth" -- duckling, pheasant, wood pigeon, Cairngorm Mountain hare, mushrooms, and other lordly victuals
Future dinners will be coordinated with hunting seasons, and should include:
Partridge (Sep thru Jan): A larger bird w/ pale meat and a delicate, mellow flavor, described by chef Jason Hicks as "a refined chicken". So refined he wraps it in bacon.
Pheasant (Oct thru Jan): Gamier tasting than partridge, the pheasant also has darker meat -- and a soul to match.
Wood Pigeon (year 'round): Deep crimson meat with several layers of flava, but a very low fat content -- perfect for the date whose loathing of animal cruelty's just outweighed by her fear of back-of-knee fat.
So reserve a seat for grouse, or hold out for one of his unlucky forest friends. Just remember: Once you try Scottish game bird, you'll never be satisfied with Central Park's "Pigeon Tuesdays" again.